Paul Dirmeikis was born on 6th December 1954 in Chicago (USA).
His father, Tomas Bronius Dirmeikis, was a Lithuanian lawyer and journalist. His mother, Paulette Le Digol, met his father in Paris in 1936. They settled in Chicago in 1951.
In 1963, two years after his father died, his mother decides de return to France. She first thinks about going back to her native Brittany, but she settles in the south of France, near Toulon.
Around the age of fifteen, he starts writing poetry.
In 1970, he is admitted in the "Ecole Normale d'instituteurs" of Draguignan. He starts teaching in 1975.
In 1976, on the occasion of the European première of SIRIUS at the Sainte-Chapelle in Paris, he meets composer Karlheinz Stockhausen.
In 1977, Stockhausen invites him to stay and work two months long at his home, in Kürten, to put in hand the writing of SHU - poèmes sur des musiques de Karlheinz Stockhausen.
Wanting his poetry to escape from the paper, he creates a live poetry ensemble, "l'Eveilleur" ("The Awakener"). The ensemble performs vocal poetry, notably Cycliques in Châteavallon.
At the same time, he starts composing songs. Between 1980 and 1986, he performs in local and regional cultural theatres. First alone on stage, playing the guitar, then with multi-instrumentist Pierre Flayeux, he regularly extends his ensemble up to 1986 (Pierre Flayeux on saxophones and flute, Christian Bonnaud on bass clarinet, Laurent Pernice on electric bass guitar, and Yves Cerveau on keyboards).
He has the opportunity to meet several renowned French song writers and singers such as Jacques Bertin, Gilles Elbaz et Jean Vasca. He appears a week long at the "café-théâtre de La Tanière" in Paris, two different years, and participates in several song festivals (Estissac and Dreux, as the first part of Jacques Bertin's concert).
He releases a first recording : "Loup Rouge" (LP - EVE 001- 1984).
In 1986, il spends five weeks in India, in Madras and Pondicherry.
Around that period, he starts feeling limits of song writing and performances, and dedicates himself to the composition of a chamber opera, Sutarti, which is partly premiered in a concert version on July 1987.
Then, he releases a second recording : "Message laissé à Pondichéry le 18 novembre 1973" (CD - EVE 002 - 1988).
Although being a self-taught composer, he ventures to compose more ambitious contemporary works, notably electronic music. Lamento for 8 cellos is premiered in August 1992, conducted by cellist Roland Pidoux at the Festival of Bélaye, .
Since that date, there is an important coming back to writing and creating electronic poetry through the computer.
At significant conversation and poetic essay, Le Souffle du temps - Quodlibet pour Karlheinz Stockhausen, is published by Telo Martius in 1999.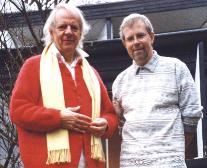 Karlheinz Stockhausen & Paul Dirmeikis in Kürten, February 1997
In 2002, after several years of musical silence, he composes and realizes "17 METACOMPOSITIONS", electronic and concrete music .
In 2003, he becomes member of the Lithuanian Composers Union.
This same year, after 40 years living in the Toulon area, he settles in Brittany, in Pordic, near St-Brieuc.
In 2005 and 2006, back to the song field with the setting to music of about thirty poems by René Guy Cadou.